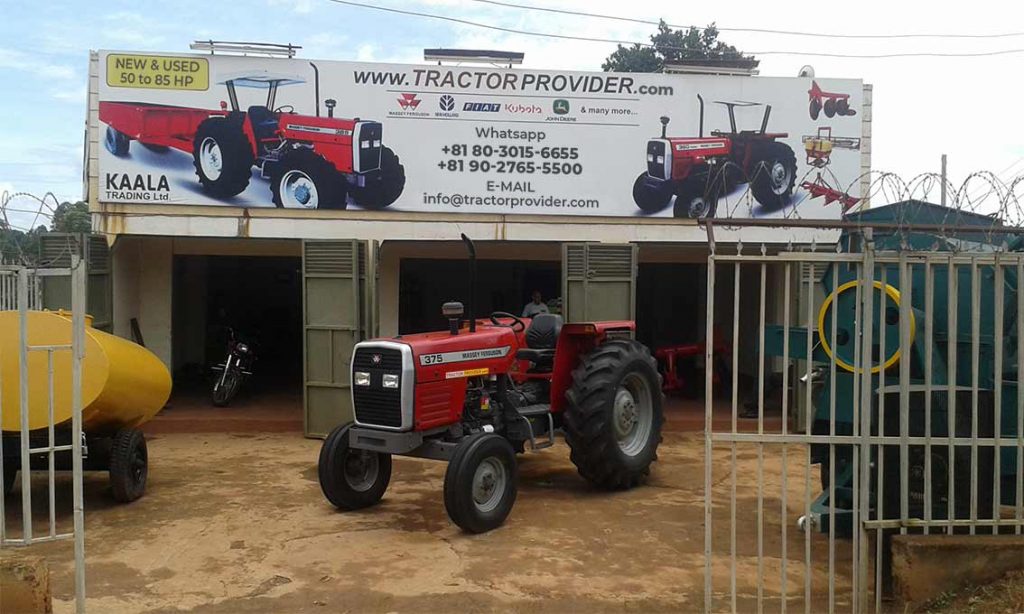 MF Tractors in Thriving Crops for Ugandan Farmers:
Brian Mbabzi is overjoyed with his purchase of the renowned Massey Ferguson 385 4WD tractor. His farm presents a few kilometers from the city of Kampala is in full bloom as the product has elevated to ever-new heights. He narrates the story of his life-changing decision.


"Tractor Provider has helped me make the best decision of my life" he exclaims. "My sorghum crop caused me very low profit for all these years, I was never able to expand my business and uplift my living standards" he continues.

"In 2020 the produce was so low that I could barely think of farming again. I got into debt and was convinced I had to stop my cultivation and think of something new. But then, I came across this company named Tractor Provider, Their marketing campaign was so strong that I was urged to give them a try. Their sales team explained to me all the procedures and assured me that buying a tractor suitable for my soil conditions was my only way out of all the chaos in my life."

"I explained my requirements for the tractor along with my low budget. I could never dream of affording a 4-wheel drive tractor. To my surprise, their prices were so economical and reasonable to me that I could not get off cloud nine. I consulted with my wife Christina, family, and friends too, they all were amazed yet concerned if it was worth risking all my life savings. After much interrogation from the sales team, I became satisfied that the purchase would result in my betterment. They were so helpful that they even provided me with contacts of their other clients in Uganda who had purchased these tractors from them and were expanding their flourishing businesses and making a great livelihood. I talked to them and found these people genuine, they even shared pictures of their tractors, explained how easy the process is and that Tractor Provider is a legitimate company with clients all around the globe."

"The tractor had to be shipped from Pakistan, I simply had to take their invoice for my order to my local bank and make a Telegraphic Transfer. The payment was made and within 3 days they confirmed receiving my money in their account. From there they were very supportive and understanding as they engaged me with each and every update for my order. I was very pleased with how cooperative and gentle they were with my never-ending questions."

"After 7 weeks my order was finally shipped and within a month I received my order. I purchased the tractor MF 385 4WD. It's an 85 HP tractor, all that I needed more was a planter. They offered me an amazing deal price with the tractor, 4 disc plough, and multi-crop planter as well. I also received complimentary tractor accessories like front weights, sun canopy, drawbar, pintle hook, jack and spanner, oil filters, etc. I cleared the complete order I received in a completely separate container. My order was undamaged and brand new."

"Once I reached my farm I waited for the new farming season and was glad my tractor was here in time. As the season began I learned how to use the tractor. It was really easy to operate and caused no trouble at all. After sowing my crop we waited to see the results. The plough was exceptionally good. Did not leave any lumps in the soil and the multi-crop planter doubled as a fertilizer spreader as well."

"Finally the time came and we started the harvest. My life had taken a complete turn. The produce was extremely good and broke all produce records. I got only 600 kilograms per hectare for the year 2019 and 500 kilograms per hectare in 2020. This year I finally became successful in producing 1400 kilograms of sorghum from the same land I owned for all these years."

"The quality was up to the mark and I made a great profit this season. Now my fellow farmers are also planning to invest in the purchase of these tractors from Tractor Provider. Some of them might even purchase more implements from their wide variety than me."

"I would remain grateful to Tractor Provider for their support and co-operation and am glad for their reach to help us farmers in Uganda. I deeply recommend doing business with them."
Brian Mbabzi is now a loyal customer from Uganda to Tractor Provider and remains happy and content with his tractor.