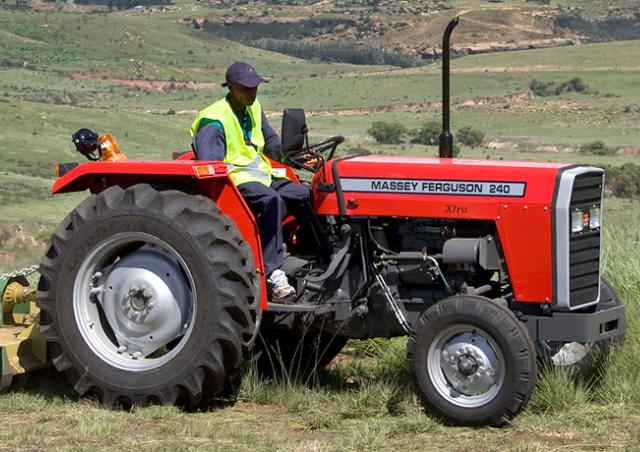 Botswana's agricultural production relies heavily on mechanization, but it also plays a key part in the industry's value chain as a whole. Mechanizing agricultural crop value addition, from planting to selling, leads to greater value outputs, sustainable rural employment, lower post-harvest losses, improved quality and the inclusion of smallholders in the market economy. Individual smallholder farmers may not be able to afford the high costs of processing their crops in a sophisticated manner, but cooperative processing enterprises, with the right amount of technical help, certainly can. Enhanced use of agricultural machinery throughout the whole value chain, from producer to consumer, has the potential to dramatically increase output and improve the lives of everyone involved at every stage.
Government Support
The government may provide a hand in a variety of ways, some of which are as follows:
By adopting facilitative measures, such as lowering taxes and import fees on agricultural machinery. To a lesser extent, but still, significantly, infrastructure development in rural areas will be of assistance. The government's concentrated attempt to promote tractors and make them more accessible to more farmers is a significant role in increasing agricultural machinery use; lowering the excise tax is one method to do this;
By improving one's technical and managerial abilities in business via systematic and concentrated training;
By using monetary incentives to increase demand. For instance, lending institutions might advertise loans with more favorable interest rates for the purpose of buying agricultural machinery. Distributing electronic coupons for mechanization services to the poorest segments of the smallholder community is another strategy to increase demand for these services in the private sector.
Public sector involvement in the forms mentioned above is essential to a successful mechanization process, notably the provision of cheap loans for agricultural machinery acquisition. Focusing on empowering private sector enterprises will generate employment among the different players in the supply and value chains, but top-down planning (such as attaining a given level of kW/ha in a certain time period) is unlikely to be the solution.
Smallholder Development
Government production subsidies may increase farm family earnings for smallholders. Improvements in cropping systems guidance are part of the robust extension services that have developed in tandem with the rise of mechanization. It is recommended that plots be combined in order to facilitate automation. The trend toward urbanization has opened up opportunities for the sale of land and the development of large-scale estates, while mechanization has helped those who are often left behind to care for the family farm—women, the elderly, and children.
The liberation of markets and the shift away from communal types of farming toward allowing individual farmers to make their own choices have facilitated more mobility and the opportunity to purchase and sell land. More and more, farmers may make use of the internet-based extension service made possible by advances in information technology, which also helps to modernize agricultural practices. The tiers of government responsible for the agricultural extension service start at the national level and work their way down to the township level. The key to fostering agricultural expansion is investing in infrastructure (mostly transportation, but also utilities).
Agricultural machinery in Botswana
The government of Botswana should have a significant role in the purchase of agricultural machinery for subsistence farmers. Spare parts availability and training on how to operate and maintain agricultural machinery are also high on the list of concerns. The following considerations are essential for success in Botswana's market.
The agricultural machinery used, must be simple to both maintain and operate. The ideal system would have straightforward controls;
It is recommended that tractor motors use as few electrical parts as possible. Because of their cheap cost, minimal maintenance, high torque, and secure fuel storage, simple diesel engines are often favored;
It is important to set up service networks in close proximity to end consumers (a suggested minimum is for 20 service centers per country);
It is impossible to have a good marketing campaign without extensive training.
Tractors with four wheels drive are popular because of their increased adaptability, security, and user-friendliness. Moreover, they have access to a wider variety of farm implements. Tractor Provider Ltd. was established to help smallholder farmers in Botswana in affording high-quality agricultural machinery at affordable costs. Tractor Provider Ltd. has provided a much-needed service to the simple farmers of Botswana by making available a wide variety of agricultural machinery, tractors, farm implements, combine harvesters, etc. Farmers are optimistic about the project's future prospects since they have access to several options for agricultural machineries, such as Massey Ferguson tractors in Botswana, New Holland tractors in Botswana, farm implements, combine harvesters, and more.