The Democratic Republic of the Congo (DRC) has enormous untapped potential for domestic food production due to its large quantity of underutilized arable land, generally good weather and soil, and agro-climatology that permits several growing seasons. But the cultivation is constrained by weak regulatory frameworks, the limited reach of government policies and resources, obsolete technology, the absence of agricultural machinery, and the dominance of micro-scale subsistence farming in national food production. Many systemic and environmental factors prevent agriculture from reaching its full potential, including war and instability, low-quality seed and inputs, inefficient farming methods, limited land availability, limited access to credit and investment opportunities, pervasive plant disease, antiquated farming techniques, inefficient food distribution networks, and inadequate training and information for farmers. The vast bulk of agricultural output is generated via unofficial, low-volume practices. In order to maximize profits, commercial plantation agriculture was frequently used.
Transport Infrastructure in the DRC
Small-scale farmers who own relatively small plots of land or who rent from or participate in sharecropping with larger landowners produce the vast majority of the world's basic foods. The poor condition of the roads along numerous key arteries is exacerbated by the heaviest rains. As a result, it is difficult and costly to transport items across the nation using motorized vehicles. In certain provinces, the national railway doesn't even exist; therefore nobody uses it to move things or people. Product is often delivered by foot or bicycle from remote communities to urban hubs. Trucks originally built to carry just 4-8 metric tons (MT) are used for most commodity transport between market hubs; however, these trucks are often upgraded to carry 10-12 MT or even more.
Cities, which are the only realistic locations for storage because of their density and proximity to other people, are also the most strategic locations for border crossings. Storage facilities owned and operated by NGOs are sometimes located on the same premises as or very adjacent to the project headquarters in remoter regions. The private sector (merchants, transporters, and retailers) develops methods to circulate commodities despite difficulties in the local transport sector and local infrastructure. Although market integration is high, the movement of locally grown staples such as dry beans, potatoes, maize, and rice across provinces is restricted. Local food markets are often lively places, with many shoppers and vendors vying for wares throughout the day. Although they lack the resources to exercise market power as buyers or sellers, local producers and marketing groups like the Fédération des Entreprises du Congo (FEC) play crucial roles in the marketing of basic foods.
Linking remote DRC to markets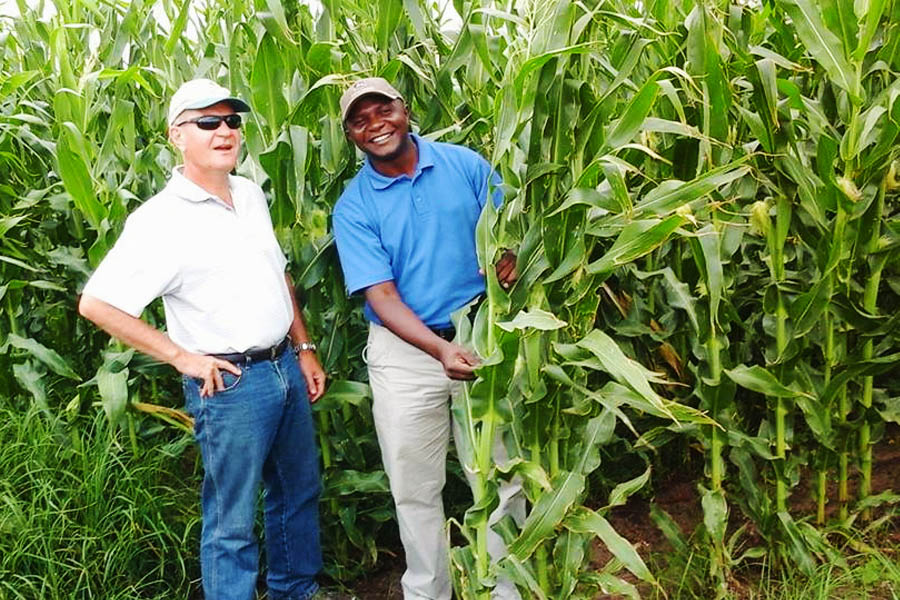 In the Democratic Republic of the Congo, commercial prospects along the banks of the Congo and Maringa Rivers were few after years of social unrest and civil strife. Sustainable agriculture practices were established, and farmers were given easier access to bigger, metropolitan markets in order to increase their incomes and help restore the forest's environment. Therefore, in 2006, AWF initiated the Congo Shipping Project. Since then, the U.S. Agency for International Development (USAID)-provided tugboat M.B. Moise has transported manufactured commodities from Kinshasa into the countryside and agricultural products from the countryside back to Kinshasa.
From the most distant stops on the barge's route to Kinshasa, more than 2,000 kilometers away, is more than three months of travel time. To get their products to market before the Congo Shipping Project, farmers would utilize improvised boats, putting them in danger from the river's unpredictable currents and the elements. When transporting their harvests, they sometimes lost 30–40% of it.
More than a decade and a half later, when villages along the M.B. Moise's path learn of the boat's impending arrival, eleven makeshift marketplaces sprang up. The availability of the boat also allows for the purchase of salt, which is essential for the preservation of food. In addition, the Congo Shipping Project has helped raise revenue, which has had a significant influence on people's lives, in tandem with AWF-supported agricultural improvement projects and the formation of farmer organizations.
From an economic standpoint, the Congo Shipping Project has been successful since it has given locals a means to increase their standard of living without negatively impacting the region's precious natural resources. Now, more than a decade later, the initiative has shown that the trade route from Kinshasa into the furthest reaches of the Lomako environment is viable, and communities with access to markets and motivations to safeguard animals and land will continue to do so.
Mechanization's Importance in Expanding Consumer Markets
With the right tractors, agricultural machinery, combine harvesters, etc., smallholder farmers in the DRC may increase their yields and have more access to markets. Tractor Provider is dedicated to assisting DRC farmers by providing access to affordable, high-quality agricultural machinery and tractors, such as Massey Ferguson tractors for sale and New Holland tractors for sale, as well as convenient financing alternatives. While the company's main focus is on selling tractors, Tractor Provider also provides a wide selection of farm implements and agricultural services. Client happiness is a priority for them.