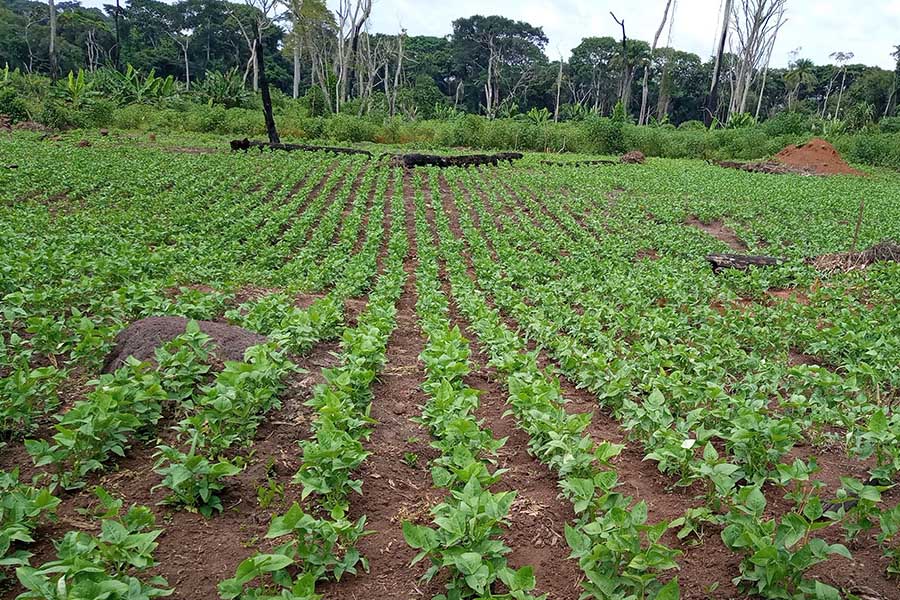 Africa's second biggest nation is the Democratic Republic of the Congo (DRC). With its massive and mineral-rich territory, the Democratic Republic of the Congo has demonstrated enormous potential for sustainable agriculture, which is especially important given that the majority of its people live in rural regions. The growth of agriculture and other industries in the DRC has been delayed by the simple fact that the nation has been recuperating from more than 15 years of violence. This has put a strain on the country's business climate by causing critical infrastructural and systemic problems. Fighting hunger and poverty in the DRC requires long-term stability in the agricultural sector.
As a result of the 2019 and 2020 countrywide floods, extensive armed conflict, and the resulting displacement, direct financial aid to the DRC has shown to be both essential and beneficial. In 2018, USAID began sending emergency food aid to the DRC. However, direct aid is not the same as long-term sustainability and is just a stopgap measure at best. The combined WFP/FAO initiative executes effective techniques to ensure much-needed agricultural sustainability in the DRC, laying an essential groundwork for future improvements.
Resilience Program in DRC
The Food and Agriculture Organization (FAO) and the World Food Program (WFP) are collaborating to promote food security and revive flagging national economies by maximizing agricultural output and making necessary adjustments to the market. The Democratic Republic of the Congo (DRC) is a country with vast agricultural potential, and stabilizing the area may be possible via increasing agricultural sustainability.
Many initiatives are in progress to address food insecurity in the long term. WFP is working with the World Bank to establish a climate-risk financing system that would insure smallholder farmers against losses caused by weather-related shocks as part of the DRC's 15-year National Program for Agricultural Development. Farmers in the Democratic Republic of the Congo (DRC) are hit hard by climate changes and other external shocks like droughts, floods, worm and locust infestations because of their extreme poverty and isolation.
The R4 Rural Resilience Initiative is a flagship method for integrated climate-risk management that draws on WFP's experience in Climate Action to assist smallholder farmers to become more resilient to climate threats. A large number of farming families benefited from the R4 initiative in 2021, and WFP is now helping the government and insurance industry in the DRC create a sustainable agricultural index insurance plan.
Results from Working Together
The agriculture sector as a whole has benefited from the government's emphasis on fostering collaboration between organizations and enhancing the management structure. Since 2017, this project's reach has expanded to include a large number of small farm families, and the ensuing cooperative effort has led to enhanced capabilities in terms of both infrastructure and administration. Improved seeds, farm implements, other agricultural machinery and technological advances in agriculture that help farmers maximize output have been widely disseminated thanks to increased collaboration.
There are now fewer disputes amongst farmers in the region, and more land is being farmed overall because of the rise in collaboration. Many local women have benefited from the program's functional literacy instruction, which has increased their opportunities to participate in public life and take on leadership roles in agricultural communities.
Because of this increase in available funds, the local component of the joint program has introduced new and improved nutritional initiatives. Crops with higher nutritional value have grown thanks to increased collaboration and knowledge. In 2020, the initiative will use direct help to create 300 vegetable gardens, reaching a large number of households and fostering long-term sustainability. There were also 150 cooking demos presented as part of the event, all of which focused on inexpensive and healthy cooking methods.
Building Up the infrastructure
Countries like the DRC, with a sizable agricultural sector, depend significantly on infrastructure for the movement and storage of their products. Since the joint program's launch in 2017, 193 kilometers of farm roads have been repaired, with women making up the vast majority of road rehabilitators. The initiative has improved transportation, but it has also built a variety of granaries and other storage facilities to store agricultural goods for the long term. Better storage means less food is lost to deterioration and more may be sold during peak demand periods, leading to more long-term agricultural sustainability in the DRC. Significant progress has been achieved in the DRC thanks to the Joint WFP-FAO resilience program. Agricultural sustainability in the DRC has the potential to reduce poverty if it is developed further.
Tractor Provider's role in the sustainability of agriculture in DRC
In addition to well-maintained irrigation infrastructure, the use of modern agricultural machinery is crucial to the long-term viability of DRC's agricultural sector and the improvement of the country's agricultural output. Tractor Provider DRC was founded to assist farmers in the Democratic Republic of the Congo in acquiring reasonably priced, high-quality agricultural machinery. DRC's impoverished farmers may now be able to breathe easier thanks to Tractor Provider. Farmers are upbeat about the venture's potential since they may purchase a wide variety of agricultural machinery, including tractors (Massey Ferguson tractors for sale and New Holland tractors for sale), farm implements, combine harvesters, and more.