Agriculture plays a vital role in the economy and culture of Malawi, as it provides food and nutrition, boosts income and supports employment. Tractors are an important tool for facilitating modern processes of agriculture production such as tilling land and harvesting crops. Therefore, understanding their role both in traditional agricultural practices as well as access to modern technology is essential for the nation's future. This blog post will explore how tractors have been used to increase agricultural productivity in Malawi, what challenges remain and how they can be utilized more effectively in the country going forward.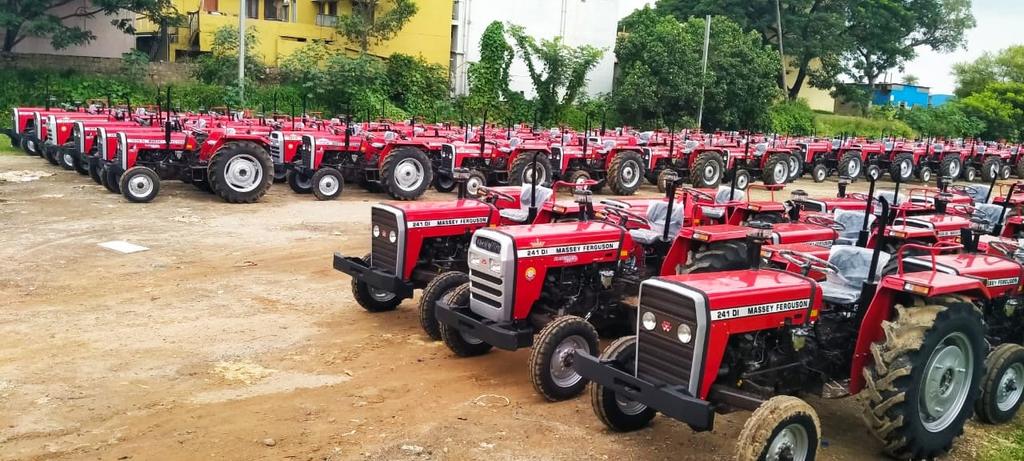 Overview of the Role of Agriculture in Malawi
Agriculture is a vital element in Malawi's economy. With over 80% of the population relying on farming, it is not surprising that the country is considered an agricultural powerhouse in Southeast Africa. One of the key components of a successful farming venture is having the right agricultural equipment. That's where tractors and farm implements come in. From ploughs to harvesters, these machines make a farmer's life much easier and more efficient. But how does one go about getting the right machinery for their farm? Luckily, there are plenty of tractor dealers and tractor suppliers in Malawi. And with tractors for sale at affordable prices, smallholder farmers with limited budgets can still acquire the necessary equipment to help them increase their crop yields and become more self-sufficient.
Understanding the importance of farming in Malawi
Farming is a crucial sector in Malawi, which is often referred to as the "land of farmers." This small landlocked country situated in Southeast Africa has a predominantly agricultural-based economy, with farming providing livelihoods for over 80% of the population. In a country where food insecurity is a common issue due to unpredictable weather patterns, farming plays a vital role in ensuring food security and sustenance for the people. In addition to providing essential sustenance, farming also serves as a source of income for many smallholder farmers, contributing significantly to the country's GDP. It is therefore essential to understand the importance of farming in Malawi and the need to support and invest in this sector to drive sustainable economic growth.
The difference tractors make in agricultural productivity
Tractors, without a doubt, can make a huge difference in agricultural productivity. These machines have transformed farming by making it faster and more efficient. With the help of tractors, farmers can easily plough their fields, plant their crops, and harvest their yield. These vehicles can accomplish tasks in a fraction of the time it would take to do them by hand. They also provide more accuracy and precision in planting and spraying, leading to higher-quality crops and greater yields. This is especially true for large farms where manual labor would simply be too time-consuming and challenging. Overall, it's safe to say that tractors have revolutionized farming and have become an indispensable tool for modern agriculture.
How tractors help with soil preparation and improve crop output
Tractors are powerful and indispensable machines when it comes to soil preparation and crop output. With their ability to cut through tough soil and execute tasks from sowing to harvesting, tractors have revolutionized the farming industry. By tilling and cultivating the earth more efficiently and at a faster rate, they provide farmers with the opportunity to yield twice as much produce as they would with traditional methods. Additionally, they help farmers to avoid soil compaction, which can be detrimental to a variety of crops. With their superior horsepower and versatility, tractors have become an essential tool in modern agriculture and will continue to play a crucial role in feeding the world.
The cost of purchasing a tractor and training individuals to use them
Investing in a tractor and training individuals to operate it can be a significant expense. However, the benefits that come with it are invaluable. A tractor can greatly increase productivity and efficiency on a farm or in any industry that requires heavy machinery. It can also save time and labor costs in the long run. Training individuals to properly use a tractor is crucial to ensure the safety and optimal functioning of the equipment. By investing in a tractor and training, businesses and farmers can not only save money and time but also increase their overall productivity and success.
Sustainable solutions for small-scale farmers to access tractors
Small-scale farmers play a crucial role in ensuring food security, especially in developing countries. However, access to tractors and other mechanized devices can be a challenge for these farmers, limiting their productivity and efficiency. Sustainable solutions are needed to address this issue, without damaging the environment or increasing greenhouse gas emissions. One approach that has gained traction is the use of low-emission tractors, powered by biofuels or renewable energy sources. By adopting these technologies, small-scale farmers can improve their agricultural practices, boost production, and reduce their carbon footprint. It's an exciting time for the agriculture industry, as innovation drives new ways of working and better solutions for farmers everywhere.
In conclusion, the role of agriculture in sustaining Malawi's economic and social development cannot be downplayed, and smallholder farmers have a major role to play. Tractors can help smallholders expand their operations and obtain higher yields, but the big challenge lies in accessing those services due to financial, structural and formal obstacles. Government initiatives with regard to loans and subsidies can help them overcome these issues. Nevertheless, selecting the appropriate tractor for one's needs is essential, so looking into all design specifications should be one's top priority. At the same time, it's also important to take proper precautions before investing in a suitable piece of mechanized farming equipment such as tractors – factors like after-sales support quality and operational expenses should be taken into consideration. By investing in a good piece of equipment, smallholders are able to adjust accordingly in order to remain competitive in an increasingly challenging agricultural setup of Malawi.